Advanced Open Water Diver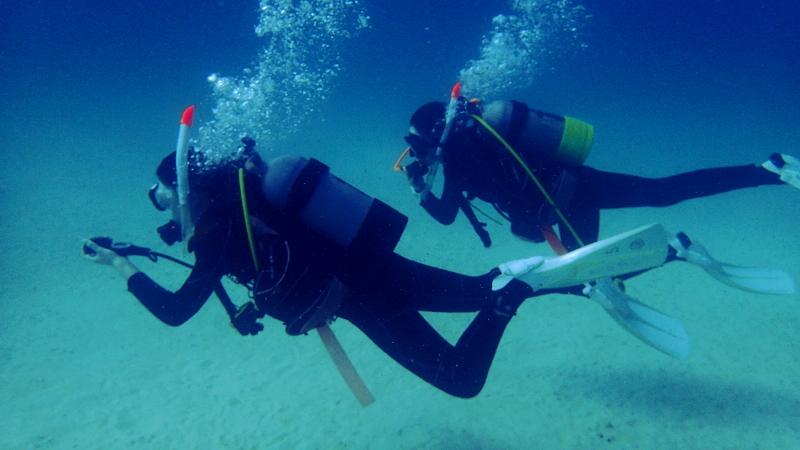 Most people elect to take the Advanced Open Water Diver Course after they have completed their basic certification. The course consists of five so-called "adventure dives" which are the first dives of the respective diving specialty courses. Two of those adventure dives, a deep dive and an underwater navigation dive, are obligatory, while the remaining three are elective and can be chosen among a number of options - peak performance buoyancy, search and recovery, boat, night, self-reliant, underwater scooter, underwater photography, underwater naturalist, nitrox, etc. During the course participants gain further experience beyond the foundational diving skills which allows them to become more safe and seasoned divers.
Price: ¥ 45000
Duration: 2 days
Notes: Gear rental is not included in the price. Full dive gear can be rented for an additional ¥ 4500 for the duration of the course. One boat and four shore dives are included. It is possible to substitute some of the shore dives with boat dives for an additional fee.
Our Enriched Air (Nitrox) course can be taken concurrently with our Advanced Open Water Diver Course at a discounted price. Please inquire if interested.
There seems to a misunderstanding regarding what the goals and scope of the Advanced Open Water Course are. The number one reason for enrollment is the fact that an advanced certification allows going to a depth of 30 meters. Yet, it is important to remember that the deep dive during the advanced course is only the first of four dives in the Deep Diver Specialty course. Hence, advanced divers are much less prepared for deep diving then divers who have obtained the Deep Diver Specialty. This is true for the remaining four adventure dives. Therefore, it is important to remember that although the advanced course gives exposure to various aspects of diving beyond the basics, it should be thought of as "a taste of diving specialties course" and the actual specialties courses need to be pursued in order to obtain proficiency.