Okinawa Discover Scuba Diving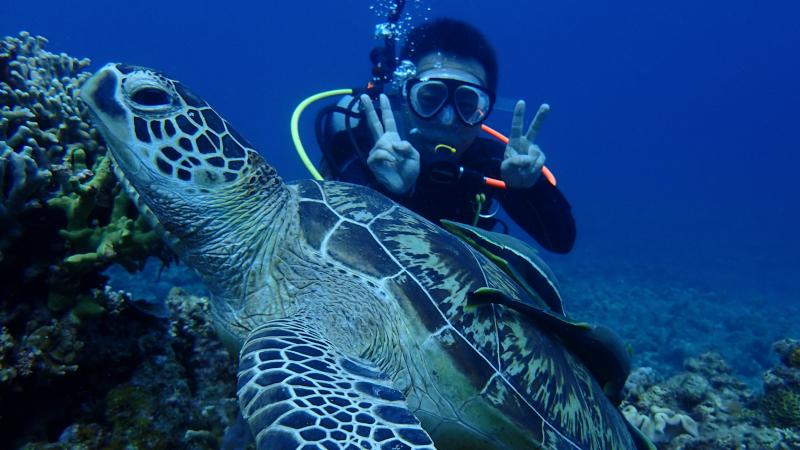 If you do not have a diving license, but are eager to discover what hides beneath the ocean surface, then sign up for our discover scuba diving trips!
During this program, you will receive a short dive safety training and will familiarize yourself with the gear that you will be using, following which you will be taught simple skills either in a pool or in calm shallow water. After that is the most fun part - a dive in the ocean to a maximum depth of 12 meters (usually 3-8 meters).
You will get a chance to explore the corals, observe starfish and sea cucumbers, and play with the colorful tropical fish! Some of our guests are lucky enough to even spot a turtle, octopus, or a ray!
We teach neutral buoyancy from the beginning of our discover scuba diving program, which means that most participants will be able to swim on their own during the dive. This sense of freedom is amazing. This is why many of our guests return for a second day of diving!
We will take plenty of pictures and videos during your tour so that you can preserve your underwater memories for the years to come and share them with others. You will receive the files at no additional cost.
The dive itself can last up to 45 minutes depending on your air consumption and comfort in the water. If you choose to do a single dive, the entire program takes approximately 4 hours, while for two dives the duration is about 6 hours. If you want to do three or more discover scuba dives, you are welcome to do that, however in that case we would encourage you to consider signing up for an Open Water Scuba Diving course.
You do not need to be an Olympic swimmer to join our discover scuba diving program, however you do need to feel comfortable in water too deep to stand in. If you cannot swim at all, we would suggest that you try snorkeling instead.
Please note that you cannot fly by airplane on the same day after you have completed your discover scuba dive.
Beach entry vs. Boat entry
Currently we offer both beach entry and boat entry options. If you would like to do a beach entry, we can take you to the Maeda Blue Cave, Motobu, or Sunabe (Chatan). If you prefer riding a boat, you can choose among Cape Manza, the Kerama Islands, and Minna Island. Please note that the Kerama Islands trip is a whole day trip and the boat leaves early in the morning, which means that the theory and pool/shallow water training needs to be done the day before.
The advantage of beach entry is that the dive time in the water is not limited and the dive starts in shallow water, which some of our guests find reassuring. The disadvantage however is that dive gear is quite heavy and some participants struggle carrying it while walking to the water.
Boat entry on the other hand is much more comfortable, however dives are limited to 40-45 minutes, water is too deep to stand while entering, and, occasionally, the boat rocks due to unfavorable sea conditions which could be a problem for guests prone to seasickness.
If you are a large group or would prefer not to share the boat with others, you can also charter the dive boats we use for private trips.
Prices
Boat entry
Beach entry
† Gear rental is included.
‡ The prices above are for a single day of diving.
§ Drinks and snacks are provided, however lunch is not included. We usually get food for lunch at one of the restaurants or convenience stores close to the port. Prices range between ¥ 400 and ¥ 1000 depending on your order.