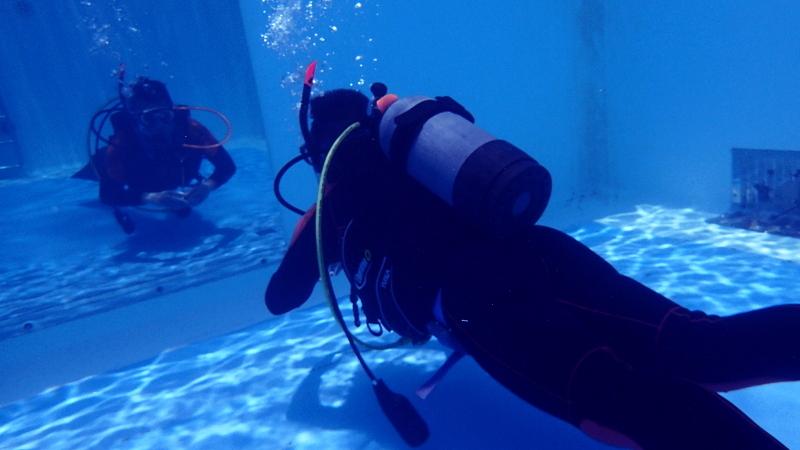 The Open Water Diver Course is for people who are seeking to get their first scuba diving certification. It includes a theoretical module, a written exam, a pool practice session and four dives in the ocean. Those who complete the course develop a solid understanding of the physics and physiology of diving, acquire proficiency in equipment assembly and care, and gain experience in all foundational diving skills. We place particular emphasis on mastering buoyancy control, caring for the environment, and having fun!
We offer both eLearning and paper manual versions of the Open Water Diver Course.
You can complete all four ocean dives from shore or you can choose to do some of the dives from a boat.
Duration: ~3 days
Prerequisites: good general health, 15 years of age or older (10 years for a Junior Open Water license), and an adequate swimming ability
Price:
¥ 50000 - paper manual | 4 shore dives
¥ 55000 - paper manual | 1 shore + 3 boat dives
¥ 45000 - eLearning | 4 shore dives (note: eLearning app not included)
¥ 50000 - eLearning | 1 shore + 3 boat dives (note: eLearning app not included)
Paper manual vs. eLearning
If you choose eLearning, you need to separately purchase an app directly from PADI (we will explain how, price ~ $ 200), so that you can do the theory portion of the course ahead of time while still at home. If you opt for the paper manual version, we will give you the textbook after you come to the island and will teach you the theory in person.
The main advantage of eLearning is saving time during your vacation - having completed the theory in advance means that you can jump straight in the water once you arrive in Okinawa! The drawback, however, is that learning from a computer is not the same as learning from a real person. In addition, PADI charges more for eLearning app than for a paper manual.
Where we will dive
The exact diving locations for the Open Water scuba diving course are subject to the weather conditions and your preference.
We usually do the shore dives at Cape Maeda (Blue Cave), Sunabe (Chatan), or Motobu (Gorilla Chop).
If you prefer to do some of the dives from a boat, we can take you to Cape Manza (Onna Village), Kerama Islands, or Minna Island.
Please note that we recommended that you do at least the first dive from shore, as this will give us enough time to go through all the necessary skills and will help you gain confidence.
Getting to the dive sites
We offer free pick-up service from hotels in Onna, Yomitan and Chatan. Pick-ups from other locations are also possible upon request. Please inquire.
Please note that the Open Water diving course can be tiring. In order to minimize travel and give you more time to rest, we would recommend that you find accommodation in Onna Village or Chatan for the duration of the course.
Notes
* The paper manual is included in the price. If, however you choose the eLearning option instead, you need to separately purchase the eLearning app directly from PADI (price ~ $ 200). Please inquire.
† Gear rental is included in the price.
‡ It is possible to select a different number of boat dives during a course than the ones indicated above. In that case the price will be adjusted accordingly.
§ When combining dives from a course with fun dives on a single day, every fun dive is charged as follows - ¥ 4000 per boat dive and ¥ 3000 per beach dive.
Why stop here?
Our Enriched Air (Nitrox) course can be taken concurrently with our Open Water course. Diving on nitrox (a gas mixture containing a higher percentage of oxygen than regular air) does require special training, yet it is a simple and valuable skill that is worth having even for beginner divers.
Once you complete your Open Water Course, you are qualified to continue with our Advanced Open Water Course.
You can also choose among several specialty courses such as Night Diving or Peak Performance Buoyancy.