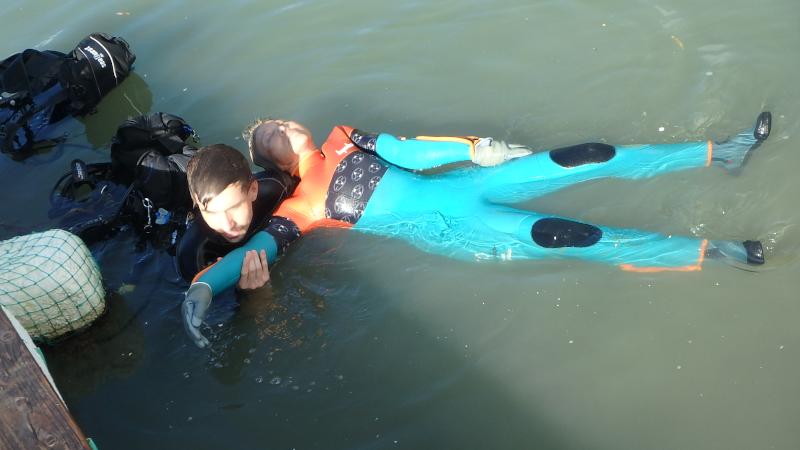 Most people who have taken the Rescue Diver Course agree that it is by far one of the most fun diving courses out there. It covers a number of valuable skills such as self-rescue, recognizing and managing stress in fellow divers, using specialized rescue equipment, helping panicked divers, as well as handling unresponsive divers. The course teaches how to address problems on the surface and at depth and includes plenty of practical drills and scenarios which help divers become more skillful, confident, and proficient. Upon completing the course, participants become safer divers and more valuable dive buddies.
Duration: 2-3 days
Prerequisites: Advanced Open Water certification, Emergency First Responder certification (First Aid)
Price: ¥ 40000
Where we will dive
The Rescue Diver course does not involve much actual diving. There are a lot of activities in the water, however most of the time is spent on the surface doing skills and scenarios.
Due to the nature of the course, we only offer shore diving during our Rescue Diver classes. This will give you enough time to master all necessary skills. We usually visit dive sites in Cape Maeda (Blue Cave), Sunabe (Chatan), or Motobu (Gorilla Chop).
The exact diving locations are subject to the weather conditions and your preference.
Getting to the dive sites
We offer free pick-up service from hotels in Onna, Yomitan and Chatan. Pick-ups from other locations are also possible upon request. Please inquire.
Please note that the Rescue course can be tiring. In order to minimize travel and give you more time to rest, we would recommend that you find accommodation in Onna Village or Chatan for the duration of the course.
Notes
† Gear rental is not included in the price. You can rent a full set for ¥ 4000 for the duration of the course and a partial set at a reduced rate.
‡ It is possible to select a different number of boat dives during a course than the ones indicated above. In that case the price will be adjusted accordingly.
§ When combining dives from a course with fun dives on a single day, every fun dive is charged as follows - ¥ 4000 per boat dive and ¥ 3000 per beach dive.
Why stop here?
Once you complete your Rescue Course, you are qualified to continue with our Divermaster course, which is PADI's entry professional certification
You can also choose among several specialty courses. We highly recommend Deep Diving and Enriched Air (Nitrox) as these courses teach you skills that you cannot pick up informally.
If you have more than 100 logged dives under your belt, bring your diving to the next level with the Self-Reliant Specialty we offer. This course is a lot of fun and will open up your eyes to see the challenges and safety aspects of scuba diving from a completely new angle.