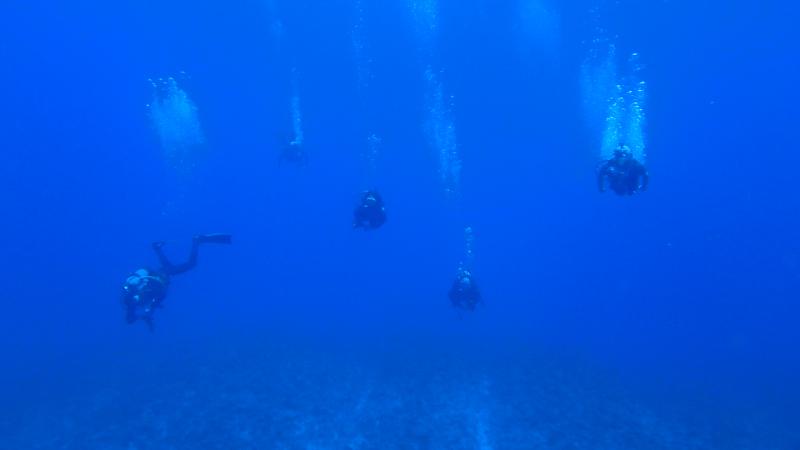 If you have a scuba diving license, then the Okinawa fun diving trips that we organize are for you!
With us you can do anything - from squeezing in a single dive during a short business trip to Okinawa, to dedicating an entire week to exploring in detail the many wonderful dive areas around the island. One or multiple dives per day, from early morning to night diving, we are flexible enough to accommodate any preference and schedule!
We can take you to various diving areas throughout Okinawa. The specific dive sites we can visit on a given day within each diving area depend on the sea conditions at that time as well as on your own preference, certification level, and experience. Some of our guests prefer to challenge themselves by venturing deep or exploring caverns and swim-throughs, while others feel more comfortable relaxing by the shallow colorful reefs. You set the rules!
We will take plenty of pictures and videos during your tour so that you can preserve your underwater memories for the years to come and share them with others. You will receive the files at no additional cost.
Boat, beach & night diving
Boat diving is certainly the most relaxing way to enjoy the ocean and allows reaching the largest number of dive sites. The duration of each boat dive is limited to approximately 40-45 minutes for the sake of courtesy towards the other people riding the boat.
If you are a large group or would prefer not to share the boat with others, you can also charter the dive boats we use for private trips.
Those of you, who are up to the challenge of walking to the water with your gear on, can also choose shore diving. The duration of shore dives is only limited by your air consumption. However, shore diving is available only in the absence of waves and would limit the number of locations we could take you to.
If you are interested in observing the nocturnal marine life, we also offer night diving at selected dive sites.
Our equipment
If you have not brought your own gear with you, do not worry, you can rent everything you need from us. Safety is our priority, so our rental gear is well maintained and regularly serviced.
We generally use 10L stainless steel tanks, however we also have access to a large selection of scuba tanks in order to accommodate different preferences, diver sizes, and air consumption rates. You can choose between 7L, 8L, and 10L aluminium tanks and 8L, 10L, 12L, and 14L stainless steel tanks.
We usually dive on air. However, if you have a nitrox certification, you can choose to dive on EAN32. Extra charges apply.
All our tanks are equipped with yoke valves (standard in Japan). If you have a DIN regulator, please bring a DIN-to-yoke converter, although we do have some spare converters you can use just in case.
Improving your diving
During and after fun dives we would often times give you tips and suggestion on how to improve your comfort and safety in the water. If you would like to improve your skills in a formal way, please consider signing up for our Advanced Open Water or Rescue Diver courses, or one of our many specialties. The two specialty courses we particularly recommend are Deep Diver and Nitrox.
If you have more than 100 logged dives under your belt, bring your diving to the next level with the Self-Reliant Specialty we offer. This course is a lot of fun and will open up your eyes to see the challenges and safety aspects of scuba diving from a completely new angle.
Prices
Boat entry
Beach entry
† Gear rental not included. You can rent a full set of gear for ¥ 4000/day and a partial set at a reduced rate. If you do fun dives with us on multiple days, gear rental is free from the third day onward.
‡ The prices above are for a single day of diving.
§ Drinks and snacks are provided, however lunch is not included. We usually get food for lunch at one of the restaurants or convenience stores close to the port. Prices range between ¥ 400 and ¥ 1000 depending on your order.